Trading conditions

Platforms and tools

Credibility

Education

Support

Fees and payments

Users choice
Capital.com is an international CFD brokerage operating out of subsidiaries located in the UK, Cyprus, and Belarus. It is home to over 360,000 traders and has processed over $13 billion in volume. Over 2,000 of the most liquid assets across five sectors provide an attractive option for all types of traders to consider. Client funds remain fully segregated at RBS and Raiffeisen, two of Europe's largest financial institutions, and accounting heavyweight Deloitte audits accounts. This broker also caters to institutional clients, through its Prime Capital division, suggesting a deep liquidity pool. The broker presents only a proprietary trading platform. New traders have access to Investmate, the educational platform of Capital.com. In addition to this, the broker offers a range of trading guides and access to the latest news. These offerings have been developed in order to educate and support new traders.
We have collected all the parameters of brokers that are important for trading into different groups for your convenience. The closer the parameter is to the maximum value, the higher the percentage of the group. The overall score is based on all groups' scores. Now you can see what the strengths of the broker are and where are their weaknesses. Not only to see but also to understand how much it suits your particular needs. If a broker has a GREEN VERIFIED, then the information about its parameters has been received from the broker and been examined by us! GREY NOT-VERIFIED means that information about the parameters of the broker is collected from open sources on the network, BUT it is not confirmed by our tests. RED NOT-VERIFIED means that there is no unambiguous information on this broker in open sources and the specified parameters may differ greatly from the actual ones.
Number of currency pairs:

135

Number of commodities:

64

Number of cryptocurrencies:

85

Number of tradable assets:

3471
0% commission & no hidden fees
Does not accept US clients
Capital.com Review 2021:
A great platform for novice to veteran traders
From its launch in 2016, Capital.com has progressed from underdog to top dog status in the trading world. Constantly pushing the boundaries of what's possible for traders of all persuasions, the platform is a stalwart companion for anyone and everyone looking for an advanced trading platform; whether just getting started or as an experienced veteran.

2,300,000 loyal clients use the platform whereby over $100m in deposits has been processed by the end of 2020. Its powerful AI technology is starting to attract huge acclaim. So, what do we think?
Overview of Capital.com
Capital was forged to make global investing across the major asset classes as simple as possible. It's an accessible platform catering to a diverse range of traders and authorised by the most important regulatory authorities. Its straightforward charts, yet advanced indicators and tools are useful for those looking to really build a strategy that fulfils their goals. Most importantly, however, is the depth and breadth of the training provided by Capital.com that can be used as a basis for traders to truly expand their knowledge so they can make a success of their trading.

Offices are spread out across Europe. London (UK), Limassol (Cyprus), Minsk (Belarus) and Gibraltar (Gibraltar). The platform acts as a hub that can be used to trade across asset classes in one place, effortlessly and with minimal prior knowledge of trading.

In excess of 3000+ liquid assets can be traded with the range including indices, commodities, equities, currency pairs and cryptocurrencies. In 2020 spread betting was adopted as another option by Capital to take advantage of the demand for this type of trading. The great benefit to traders being that spread bets are exempt from both capital gains tax and stamp duty charges.

Capital offers a flawless trade execution down to the millisecond with ultra-tight, competitive spreads. Typically when trading the EUR/USD pair -which is one of the most popular assets – a spread of 0.6 pips is normal.

No commissions for opening and closing trades make the platform a frugal, cost effective choice. Deposits and withdrawals are charged also incur no charges. The only charge is an overnight fee, which is taken if a trade is kept overnight. This is the industry standard.

Signing up and opening an account is seamless with deposit minimums that allows for the ultimate accessibility to the markets. £20, $20 or EUR20 (100 PLN) is all that's needed for new traders to get going. For wire transfers a minimum deposit of EUR250 is necessary.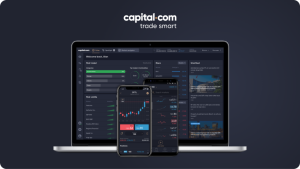 Pros of Capital.com
Leverage of up to 1:200 lets you trade 3000+ popular assets any way you like
Ultra-tight spreads with instant order executions
No hidden charges or commissions
AI- first platform, the first of its kind detecting Emotional Quotient biases (eQ) alongside personal insights for each trader, uniquely tailored to them.
Solid risk management with no risk of negative balances due to balance protection. Normal and guaranteed stop-losses.
Instant price alerts, impressive charting tools, advanced analytics tools and nearly 100 technical indicators
Endorsement by respected security regulators (FCA, CySec and NBRB) and privacy of the highest standard
Educational prowess. Deep and insightful education to help veterans and new traders including a regularly updated Youtube channel with more than 100k subscribers, market news, guides and online courses.
International platform allowing speakers of 28 different languages the same access to all the powerful functions on the Capital platform
24/7 customer support available in 8 languages
Cons of Capital.com
Not all assets are available to trade in demo accounts
Not available in the US
Regulation
Client safety is demonstrably paramount at Capital. With authorisations from the FCA (Financial Conduct Authority) , CySec (Cyprus Securities and Exchange Commission) and NBRB (National Bank of Republic of Belarus).
The broker is audited by Deloitte, one of the largest accounting firms in the world. Client funds are stored in segregated accounts at several very large European banks including Royal Bank of Scotland, Raiffeisen and Eurobank.
Conditions
No fees are taken for anything: opening/closing trades, depositing and withdrawing, real time quotes, educational materials, charts or anything else. Commissions are not taken.
The broker has won xxxx and xxx for its transparent handling of traders. Due to a wide network of funding providers Capital is able to deliver spreads that are among the most competitive amongst brokers. 0.6 pips for EUR/USD and S & P 500, 0.8 pips for GBP/USD and 34 for BTC/USD are just a few examples of spreads on the most traded assets.
Overnight fees are as per the industry standard. Nightly premiums levied are small as they're based on the size of leverage and not on the size of a trade. This is in direct contradiction to competitors and a worthy consideration when comparing brokers.
Platform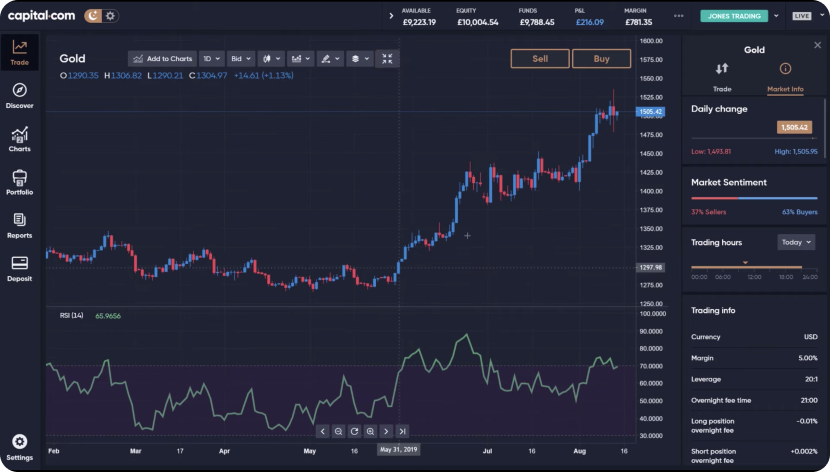 The elephant in the room when it comes to the Capital.com platform is that it is at the forefront of AI. The depth of personalised insight is unmatched with reports generated for each trader based on their performance.

Governing the AI is an exclusive feedback system called eQ (which stands for emotional quotient). The patent-approved intel observes the trader, simultaneously analysing more than 25 biases that cause impartial trading behavior.

From this, insights and tips are generated for each trade made on the platform. This level of customised support is a serious plus point for the capital.com platform and really makes it special.

More than 75 technical indicators are easily accessible and simple to implement and use. This makes handling the charts painless and opportunities for good trades easy to spy.

Risk management is not neglected at all. A full set of tools are provided. CFDs are always flexible. Loss of capital is protected by normal and guaranteed stop-loss orders that can be effortlessly edited. Take profit orders can be used to lock in profits safely with quick execution. Custom price alerts help traders stay on top of their positions when they are not at the screen. Negative Balance is never a risk because of automatic position closure when the P and L balance for an account is near 0.
Assets
As of the end of March 2021 the following types and assets are available on capital.com (in the UK):
3118 Equities
171 FX pairs
85 Crypto
64 Commodities
33 Indices
Intriguing types of asset include football stocks such as Manchester United (MANU) and a handful of others. Pharma stocks and manufacturers such as Moderna Inc. (MRNA). Themed and unique proprietary indices- only available at Capital – that group together macroeconomic trends are available.These include the Anti-virus Index, Oil Price Index and Crypto Index among several more. Futures on oil and the Dax30 can be traded too.
Account types
The core features discussed earlier in this review are available in all account types. Plus tends to be the most popular because it offers extras that the standard doesn't have, while requiring a much lower initial deposit than a premium account ($3000 vs $10,000). Three account types are offered:
Standard- All account types include the following features however, standard accounts are restricted to advanced charts, range of markets and negative balance protection.
Plus- Plus additionally includes a platform workthrough, an account manager and custom analytics
Premium- On top of all the features in standard and plus accounts the premium account includes exclusive webinars and premier events.
Mobile trading
Training
Training is abundant in both breadth and depth at Capital.com. The underlying ethos of the platform is in creating an 'investor democracy'. This shows through the variety of topics covered on their site and associated social media and Youtube.

Trading terms are covered in a glossary (Financial Terms and Definitions), webinars and market updates that are published weekly.

For those looking for deeper understanding, in-depth trading guides covering all the main principles of fundamental and technical analysis are to be found on the platform.

An app called Investmate was launched in 2018. It features six common trading goals and ways to achieve them. It's great for learners to get quickly up to speed with how markets work and how to achieve their own goals. Thirty short courses are included on the app with quizzes also a common feature on the app.

Lots of video content is available on the Capital.com Youtube Channel. Regular videos about price analysis, analysis for gold, silver, gas, stocks and indices and so on. On top of this there are frequently added talks about a range of trading topics along with training videos for the most basic principles for traders e.g liquidity.