Trading conditions

Platforms and tools

Credibility

Education

Support

Fees and payments

Users choice
AMarkets is an online broker providing online trading services to clients around the globe. They offer the popular MetaTrader platforms, flexible account types and a choice of trading tools along with educational materials. AMarkets primarily provides brokerage services in the CIS countries, Asia and Europe. They are focused on offering high-quality services and comprehensive support to their clients and partners. They have a professional team that is committed to finding the latest innovative trading solutions and incorporating new technologies. This helps to ensure that AMarkets offer good trading conditions to their clients from across the globe. The brokers experts take an active part in various industry conferences and events, where they discuss trends and prospects of financial markets.
We have collected all the parameters of brokers that are important for trading into different groups for your convenience. The closer the parameter is to the maximum value, the higher the percentage of the group. The overall score is based on all groups' scores. Now you can see what the strengths of the broker are and where are their weaknesses. Not only to see but also to understand how much it suits your particular needs. If a broker has a GREEN VERIFIED, then the information about its parameters has been received from the broker and been examined by us! GREY NOT-VERIFIED means that information about the parameters of the broker is collected from open sources on the network, BUT it is not confirmed by our tests. RED NOT-VERIFIED means that there is no unambiguous information on this broker in open sources and the specified parameters may differ greatly from the actual ones.
Number of currency pairs:

44

Number of commodities:

18

Number of cryptocurrencies:

27

Number of tradable assets:

550
Free Autochartist signals and Trading Ideas
Virtual Private Server (VPS)
Strict verification process
Clients from many countries are not accepted



Products and services:
Online trading
Clients have access to more than 550 trading instruments, including currencies, metals, indices, commodities, ETFs, stocks, bonds, CFDs, and cryptocurrency.
Copy Trading
Copy Trading is an advanced investment service that allows you to earn income in the financial markets by following the strategies of experienced traders and copying their trades. An investor maintains complete control of his funds and can adjust the acceptable level of risk. Professional traders, in their turn, profit by earning commission from using Strategies.
AMarkets Broker Overview:
AMarkets is a globally recognized broker providing impeccable service since 2007. Over the years, the AMarkets team achieved outstanding results in the industry, which is confirmed by a large number of loyal customers and international awards. AMarkets' mission is to provide clients and partners worldwide with the opportunity to become successful in the financial markets.
AMarkets is committed to delivering first-class customer service with an average response time of one minute, instant deposits, and ultra-fast order execution.
AMarkets for traders
AMarkets stays focused on using only innovative technologies, which allows the broker to provide a perfect set of trading conditions. Clients have access to all the necessary tools for independent and algorithmic online trading. The company uses modern trading platforms, advanced liquidity aggregation technologies and mechanisms for direct access to the interbank market – STP, ECN. The minimum initial deposit to open an ECN account is $200. AMarkets doesn't charge swaps on commodities and indices. For metals, currency pairs and cryptocurrencies, the company has introduced improved swaps that allow clients to save 30% on swap fees.
AMarkets is a category A member of the Financial Commission, an independent external dispute resolution organization that ensures that traders and brokers get their disputes resolved in a quick, efficient and unbiased manner. The Financial Commission provides insurance for up to €20 000 per each claim from its Compensation Fund. The quality of order execution at AMarkets is audited and assessed on a monthly basis by an independent service, Verify My Trade (VMT).
Types of trading accounts at AMarkets
AMarkets online broker offers three types of accounts:
Standard is the most popular account type. It has favorable trading conditions and allows clients to choose the type of order execution – Market or Instant. The minimum initial deposit is $100; the spread is floating – from 1.3 pips.
Fixed account is perfect for position trading. The initial deposit is $100, the spread if fixed – starting from 3 pips depending on the trading instrument.
ECN is tailored to the needs of experienced traders. It's suitable for scalping and has the speediest order execution and tight spreads. The minimum initial deposit is $200; the spread is floating, starting from 0 pips.
The Islamic account option will be suitable for clients of the Muslim faith. It's 100% compliant with Sharia law. Islamic accounts are swap-free, i.e., there is no interest fee (paid or charged) for transferring positions to the next day on metals and currency pairs. The option is available on Fixed, Standard and ECN accounts.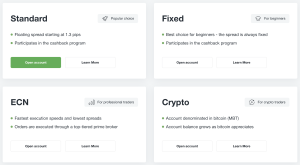 AMarkets' bonuses and promotions
AMarkets regularly runs various promotions that allow clients to increase their trading profitability. All new clients who choose a Standard or Fixed account type in the MetaTrader 4 platform can take advantage of an exclusive welcome bonus offer and double their initial deposit.
For clients participating in the "Get cashback from AMarkets" loyalty program, the broker returns part of the spread. This cashback program is multi-level. The greater trading activity the clients demonstrate, the more funds they can get back to their trading accounts.
In addition, AMarkets provides its clients with the opportunity to earn a real profit when trading on a demo account. If trading is successful, the client can transfer their profit to a live account.
AMarkets for investors and traders
Copy Trading is one of the most popular AMarkets services. It that allows investors to make money in the financial markets by following the strategies of experienced traders. The system transmits trading signals from the source (i.e. managing trader) to the recipient (i.e. the investor). The signal when a trader opens or closes a trade is copied to the investor's account automatically. So the investor does not need to open trades manually.
The platform utilizes a modern platform with a user-friendly interface. Clients can use both a web-based version of the platform or a mobile application. An investor can choose a trading strategy based on various parameters such as profitability, commission%, number of investors, age of the strategy, etc. At the same time, the investor's funds always remain in his account. He has full control over the investment and can pause the copying process at any time.
AMarkets clients can also create their own strategies in the system and earn additional income from the investments. The trader himself determines the fee rate and commission for copying his strategy.
Been a month since i started using AMarkets, no complaints whatsoever so far. Good spreads,customer care always helping, fast withdrawals.
Amarkets is nice brokerage platform and reliable so far. The trades, commission all are accurate, but the chart layout and mobile software some times doesn't connect to servers and annoying.
The platform, execution, spreads an customer service are great, but you guys should demonstrate more commitment by scheduling educational webinars more often, I don't like to compare with other brokers but others do it.
The customer service is great they are always available to help and support on your queries and within seconds. Platform is really nice, but there are a connectivity issues but the team helps and it gets sorted. However i wish the charting was little easier to use.
I simply love your transparency, lower transaction costs and your amazing trading platforms.
Good customer relations with clients. I was given a clear product knowledge on what Amarkets has to offer. The assist from the admin staff was pleasant and helpful. Thank you.
Amarkets have been a strong competitior in the broker market for a while and continue to do great marketing and advertising as a leading broker but could offer more crypto pairs to trade would make them better