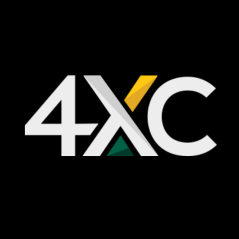 Trading conditions

Platforms and tools

Credibility

Education

Support

Fees and payments

Users choice
In a market with intense competition, 4XC thrives by it´s transparency, uniqueness, and superb customer service. As traders themselves they understand the importance of adding these values to your trading.
With more than 20 years' experience across multiple markets, they apply the highest trading standards and strongest safety measures for our clients' funds.
Their mission is to add value to their client´s trading, from best prices through to education, assisting them to boost their trading experience to the next level.
4XC is a member of the Financial Commission, an international organization engaged in the resolution of disputes within the financial services industry in the Forex market, with an insurance of up to 20.000eur per claim.
We have collected all the parameters of brokers that are important for trading into different groups for your convenience. The closer the parameter is to the maximum value, the higher the percentage of the group. The overall score is based on all groups' scores. Now you can see what the strengths of the broker are and where are their weaknesses. Not only to see but also to understand how much it suits your particular needs. If a broker has a GREEN VERIFIED, then the information about its parameters has been received from the broker and been examined by us! GREY NOT-VERIFIED means that information about the parameters of the broker is collected from open sources on the network, BUT it is not confirmed by our tests. RED NOT-VERIFIED means that there is no unambiguous information on this broker in open sources and the specified parameters may differ greatly from the actual ones.
Number of currency pairs:

90

Number of cryptocurrencies:

4

Number of tradable assets:

328
No Dealing Desk and No Requotes
All orders are placed without delays with a pool of 21 Providers between Banks and ECN's
The average order execution time is 41 milliseconds
PAMM account (without minimum deposit)
Daily payout of rebates and performance fees
One financial license (FSC - Financial Supervisory Commission)
If you are up for lightning-quick trading, swift execution of orders and the best view of transactions, then 4XC broker is synonymous with everything that's in the book.  It delivers promises and keeps up the work that can harness gains for you. The leverage and spreads help you stay ahead of the competition. The forex trading signals are immaculate here that enhance your experience manifolds. The aggregate trading technology, innovation, optimal environment and customer support late you trade in every condition and make profits.
4XC Pros
Modern encryption technology for keeping your data and information secured
Licensed by FSC
Member of The Financial Commission
Account segregation is available
Transparent trading conditions
Partnerships with various banks
Audited by McMillan Woods
Indemnity insurance available up to 1 million GBP
4XC review: Is it safe to trade?
The broker meticulously follows the rules formed by legal authorities and governments. Thus, the matter of concerns goes away. The brokerage company has registration, license, physical address on display, and that emphasises the trust of a trader. These measures ensure a sense of responsibility on the broker's end and create a safe environment for trading.
Geomatrix LTD is the parent company of 4XC broker. It has a registration in the Cook Islands. The number is  ICA 12767/2018. The broker has bagged the licensing from Financial Supervisory Commission (FSC) with a license number MC03/2018 (money changing one).
Interestingly, the broker is audited by McMillan Woods. It conducts the audit of monthly orders of approximately 5000. So, it flourishes transparency instead of hiding anything from its clients. So, these all factors extol the safety and security offered by the online web portal. You can openly make any investment without inhibitions or second thoughts.
4XC review: Account Types
For making your trading experience superb and seamless, irrespective of the trading experience behind, the broker offers four trading accounts. Standard Account is intended for beginners or learners. Interestingly, there's no commission on it.  Pro-Account is for the traders who have spent enough time in financial trading and gained money and experience with time. It comes with low spread and commission.
VIP Account is for traders who have high-net-worth and are veterans of the field. The commissions are zero, and spreads are low here as well. There's a special account that is dedicated to crypto traders.
Standard Account features
The broker welcomes new traders with exquisite and exclusive characteristics that hinge on quality services.
The maximum leverage you get here is 1:500. That's a rarity with other brokers. Thus, if you are a forex trader, you get a huge opportunity to earn massive money.
The available base currencies are NZD/USD/GBP/EUR/NGN.
The floating spread starts from 0.8 pips. Hence, maintaining the liquidity quotient.
Get exciting offers like risk-free trade and a USD 20 welcome bonus on trading.
A beginner trader has to spend USD 10 as a minimum deposit.
Receive the benefit of 74 currency pairs, 295 stocks and 24 CFDs.
Quotes are extended to 5 digits after the comma
The minimum order volume is 0.01 lots
The maximum order volume is 30 lots. S0, purchase and sell plenty of assets
There are no restrictions on the number of positions
Stop out is 50 per cent
Margin call is 100 per cent
Hedging is allowed for newbie traders. It means that you can take advantage of the market trending either way and make money.
Scalping helps in trading several times. So, you can earn multiple times a day.
Pro Account
Pro Account affords them the next level of features that elevate their trade for traders who have cleared a distance in the financial trading field. The account exposes them to some unprecedented services.
Receive professional advantages
The minimum deposit here is USD 100
The floating spread starts from 0.2 pips. Moreover, USD 2 per lot commission each side.
You can find leverage of 1:500, which can fetch unimaginable profits and in quick succession.
A trader finds 74 currency pairs, 295 stocks and 24 CFDs for trading.
The available base currencies here are GBP/EUR/USD
Get a welcome bonus of USD 20
Receive a peril free trade in the offer
Here, the minimum order volume is 0.1 lots
The execution standard is market execution
You can find the maximum order volume of up to 30 lots
There are no restrictions on the maximum number of positions
The minimum step volume is 0.01
Scalping is allowed for trades
You can apply hedging for garnering benefits when the market plunges
Stop out is 50 per cent
The margin call is 100 per cent
Quotes are extended to five digits after the comma.
VIP Account
An individual with high-net-worth eclipsing that required for trading on the Pro Account is eligible to trade with the VIP Account. It unlocks several unseen features and services for traders.
The minimum deposit for an individual trader is USD 25000
For traders, the floating spread starts from 0.5 pips
You can trade 295 stocks, 74 currency pairs and 24 CFDs
Market execution is the execution standard
Extended five digits after the comma in quotes
Get a dedicated account manager for making things more flexible in trading. It assists in handling the workload.
Do not need to pay anything while withdrawing funds
Scalping is allowed
Hedging is allowed
There are no restrictions on maximum position
The minimum step volume is 0.01 pips
You can find the maximum order volume of up t0 30 lots
The minimum order volume is 0.01 lots
The maximum leverage is 1:200 for mitigating any risk
For traders, the base currencies available are GBP, EUR and USD
The margin call is 100 per cent
Stop out is 50 per cent
Crypto Account
For facilitating people fancying their chances in the world of cryptocurrencies, 4XC broker has got the best crypto trading opportunities by dedicating the account. Here are some of the enticing features:-
Floating spreads start here from 0.8 pips
Available base currencies are mBTC/ mETH
Hedging is allowed
The minimum step volume is 0.01
No restrictions for the maximum number of positions
The maximum order volume is 30 lots
The minimum order volume is 0.02 lots
Standard market execution
The minimum deposit is USD 10
Scalping is allowed
PS: The broker also has the services of a demo account. Before you start trading in the live market, you can research any account using the practice one. It will guide you about all features and methods to use them properly and significantly.
4XC review: Account Opening
The process of account opening is simple for all users. The broker requires you to fill in basic details.
You have to choose between individual and corporate account as per the need.
Then put in your personal information like name, email, phone number, date of birth and country.
After signing up successfully, upload verification documents like government IDs, resident proof and others.
Now, create the wallet by choosing the account currency for the transaction.
4XC review: Trading platforms
Plenty of charts

Facility of auto-trade

Get experts' advice on more than 80 instruments

Download them for windows, iOS and Android

Compatible for algorithmic trading

Get the history of trading operations

Reliable data protection

Get real-time quotes

9 timeframes

Offers graphical objects

30 technical indicators

Copy-trading and trading signals

One-click trading 
A trading platform determines how well trader would be able to project trades and yield benefits from them. 4XC broker has an excellent track record. Thanks to the finest platforms like MetaTrader5 and MetaTrader4 along with WebTrader. They set a template and tempo for traders.
These platforms offer tremendous qualities.
News alerts
Technical analysis
Fundamental analysis
Loaded with superior tools
Flexible and adjustable trading system
4XC review: Trading products
The broker trades in the forex trading market, stock trading market, metal trading market, cryptocurrency trading market and other CFDs, offering plenty of options to traders. These products have several units for buying and selling during a stipulated period. You have multiple markets for trading the assets. It is equipped with artificial intelligence trading. Also, market players get an opportunity to earn interest in their trades.
These products are easily tradeable and available on the broker's trading portal. A user can seek assistance from trading experts and veterans of the field. Interestingly, you can track the market through the website and decide on your strategies.
4XC: Commission and spread
The broker offers ultra-low spreads, which define trading in the best way possible for subscribers. Thus, there's either no commission to very low commission charged to traders depending on the type of transaction and trading account. So, it makes for joyful trading with these factors favouring the broker.
4XC: Leverage
The trading portal is a leading forex broker in the market, and it offers 1:500 as the maximum leverage to its clients. It is vast considering the volatility in the foreign exchange market. However, as per the needs, a trader can use less or more.
4XC review: Deposit and withdrawal
The most interesting part of the broker is that it does not charge any penny for depositing and withdrawing funds. Also, you can initiate them at any moment as per convenience. It is easy and does not take much time. So, while you are trading or requiring to fetch money out, the broker assists you swiftly in both instances.
A client can use credit cards, different e-wallets, wire transfer and means of transfer and withdrawal.
4XC review: Education and research
When it comes to imparting information regarding the market, 4XC is ahead of all its contemporaries by leaps. The trading course material it provides to boost the capacity of a trader by miles and make them equipped to face all market conditions that may occur in the future.
There are tutorials, trading guides,  news & analysis and trading courses. They are segregated into different sections like beginner, advanced, and expert.
For producing effective trading, there's a platform tutorial. It explains the best usage and manifestation of orders on the best platforms like MetaTrader5 and MetaTrader4. A trader learns new techniques and necessitates using them to perfection. Likewise, the client tutorials help to get the better of the entire brokerage trading portal. It has all incubation and induction elements that teach people to command the in-depth modus operandi of the broker.
For market players, based on the experience, the tutorials are designed to assist them. The broker helps by guiding what assets to trade and how to order and sell them. It helps in drawing a strategy around. A beginner trader would find it immensely beneficial because it will get them on the pedestal of taking bright decision for investment in the financial market with fewer funds to spend.
Similarly, for the intermediate traders, who have garnered some experience, the tutorial will guide them toward assets and instruments to justify their money and knowledge. There's a lot for advanced traders to gain and roll out humongous returns through the guide.
The trading courses hinge on beginner to expert level and support them equally based on their requirement at that moment. Chief and veteran traders are behind the design of these courses, which keep on accumulating information as the market grows. So, you get the latest information about the market.
For research, you get market analysis, market news, economic calendar and market signals.
4XC: Customer support
You can reach out to the broker through several ways for addressing your issue. The brokerage company offers services in multiple countries. You can call them, ping on WhatsApp, +44 203 514 9306
write on email id : [email protected]
Message on live chat and correspondence through the address Global House, Avarua, Rarotonga, Cook Islands
Final Verdict: 
The broker 4XC is a perfect option for beginner to expert traders. There are no to low commission and ultra-low competitive spreads. These features lay a foundation of commitment. Moreover, safety features, registration number, licensing and regulation by FSC add to the trust of traders. The minimum deposit of USD 10 allows everyone to think about trading in the market.
Good broker never had any issues with them, fast service from customer and reliable spreads.
Never lag or delay when place orders, even during peak minutes. Love the Live chat support, always nice and very helpful
Easy to use website. Clear and concise instructions, including easy transfer options to fund the account. Helpful staff on the web chat.
4XC is nice brokerage platform and reliable so far. The trades, commission all are accurate, but the chart layout and mobile software some times doesn't connect to servers and annoying.
Been a month since i started using 4XC, no complaints whatsoever so far. Good spreads, customer care always helping, fast withdrawals.